The Power to EASILY Create Video Content & Video Courses Fast…Reimagined.
It doesn't matter if you're:
A struggling entrepreneur looking for their first breakthrough
A inexperienced beginner that's never created a single video ever
A super non-technical person that doesn't have a single techie bone in their body
A busy marketer that knows video is important, but you just don't have the time to implement it as much as you like
A successful business owner that's looking to gain more market share
A local agency, consultant, or coach that needs to grow their client following
Regardless of where you find yourself on the spectrum, I can say with TOTAL CONFIDENCE that after today…with what's being shared on this page…succeeding with video will NEVER be an issue again.
More on that in a moment, but first…
In 2020 We Introduced "
Course

Reel

Legacy", A Solution To Create Video

FAST

Using Just Your Voice & It Was A Smashing Success…But We Weren't Satisfied.
Our product solution known then as "CourseReel Legacy 2020" was a true godsend for a lot of entrepreneurs. We have users creating tons of videos and course content with just their voice. Users loved it. And we loved creating it for them.
But, yet…something was missing..
We wondered, "How can we make creating a video course as simple as possible for even the most non-technical grandma?" Or, "how can we tap into today's technology and create a solution that will allow ANYONE to create video content so fast and easily…that their competition won't be able to keep up?"
It was this question that kept us up at night. So we tore the entire thing down and built our very own true Ai solution that would be a total game changer when it came to creating video courses easily and quickly.
Soon After,
We Engineered a Brand New Solution Where
ANYONE

Could Create a

Profitable Video Course

From Start to Finish…

In Just Minutes.
This is the true difference maker when it comes to making video courses as quickly as possible.
Imagine for a moment that, while on an afternoon stroll you get an idea for a course. You open your phone, speak a few words, and then the app:
Brainstorms course topics for you
Comes up with its own outline for your course on its own.
Creates scripts for each chapter of the course so you know exactly what to say
Can bypass your speaking and create its own voice recording of the scripts it just created.
Create slides with graphics for all the videos that it's created.
If you think it's impossible…I assure you it's not. We've developed the First Ai Course Trinity Matrix and it's going to help you tap into the MULTI-BILLION dollar eLearning industry like never before.
So Is
Creating Video Courses

Still

Profitable In ?
Yep. Even With Pandemics, Inflation, & Economic Casualties, People Continue To Thrive With eLearning Businesses In All Sorts of Niches!
No matter what's been going on in the world, selling courses continues to thrive month after month and year after year. And it has grown in . Everyday people are making absolute killings packaging their knowledge into profitable courses for sale. Take a look:
Orbis Research reports that the e-learning market is expected to grow to $275 billion by and most of the providers are using video as the medium for their courses!
Udemy's marketplace sells video courses to the masses and their net worth is close to 1 billion dollars!
The online education provider Coursera (who uses videos as a big part of their training) is also now worth 1 billion dollars!
Kat Norton, a.k.a "Miss Excel, was able to quit her job and turn her side hustle of teaching excel on Tik Tok (with DMX playing in the background) into a course that's earned her over $1 MILLION dollars to date.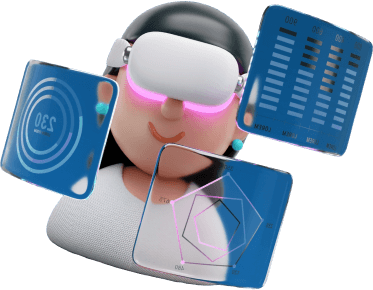 Liz Wilcox, was able to turn her knowledge of traveling and RV'ing into launching a successful $97 course that generated over $13,000 from 141 sales.
Kelsey Baldwin of Paper Oats was able to generate $20,000 with a list of only 900 people by creating a course teaching people digital design.
Rachel Ngom, a Pinterest specialist, generated $49,500 in just 5 days by selling her course titled Pin With Purpose.
Michelle Gardner of Making Sense of Cents was able to generate $1.1 MILLION in course sales without using webinars or lives, but still was able to profit from her knowledge.
Victor Bastos launched his first course on Udemy in 2012 going on to later generate over one million dollars in sales. Since then Victor has created his own successful platform, Onclick Academy, to deliver his expanding portfolio of online video courses.
Gabby Wallace transitioned from being a classroom-based English teacher to traveling the world producing online video courses for English language learners. Her popular YouTube channel has generated over 11 million views and nearly a quarter of a million subscribers. Her success propelled her to create her own course on teaching others how to create video courses too!
Rob Percival's courses on Udemy have reached nearly 1,725,968 students and exceeded $2.8 million in total earnings.
Alun Hill's courses have been accessed by nearly 80,046 Udemy students and have earned over $950,000.
This is just a handful of examples. The internet is littered with so many successful course creators.
What If I Told You That…
You Could Skip To The Front of The Line & Have a Profitable Course Ready In 24 Hours Instead of Taking Months?
And…That You Could Do it Doing What You're
ALREADY

Doing Right Now?
I want you to imagine for a moment.
Instead of the normal:I
Turn on the computer and load your video creation program.
Spend hours trying to create one video.
Constantly starting over because of messing up.
Spend more hours trying to edit your videos.
Being a perfectionist with adding effects, intros, outros, etc.
You're at the park. Or you're in the car. You get an idea for a course. Not wanting to spend a ton of time writing out notes, fiddling with mind maps, or doing research, you simply entering a keyword (something you already do) and in minutes you have an entire course outline ready to go.
And you can take it one step further and have all of the content written for each outline without you having to do it yourself.
Now let's say that all you have is an idea for a course, but no clear topic. Wouldn't it be great to submit that single keyword and have all of the brainstorming done for you in mere minutes?
Well my friend, you no longer have to imagine. Because the ability to do all of that and more is available at your fingertips…
What If You Could ALSO Legally Create Video Courses From Videos You Don't Even Own?
As I began to develop this idea further, I thought…
"Wouldn't it be nice to be able to use any video as a starting point for my video courses and content?"
And the more I thought about it, the better sense it made.
With so much content available online (thousands of hours of video are uploaded every single minute), picking any video I liked that could prime the pump for any course I wanted to create, would be amazing!
So after months of testing, tweaking, and getting things just right, I'm pleased to announce that I finally created that solution.
And I want to share that same solution with you today so you too can create amazing high-converting video courses fast...just by using simple audio.
The Evolution of Video Course Creation Has Arrived.
Introducing
Create High-Converting Video Courses In Minutes!
There's No Huge Learning Curve Involved.
Just Enter a Keyword, Follow A Few Steps & Voila!
You've Got Instant Video Courses & Video Content.
It Truly Is A Breeze To Use CourseReelAI With Only A Few Simple Steps.
Give CourseReelAI your audio or input a keyword and get back course topic suggestions
Let the A.I. create the course outline, the scripts for each chapter, images, and slides WITH IMAGES for your entire course in just minutes
Record your voice or let the in house A.I. handle the voice over, export your videos, package to sell, and get paid!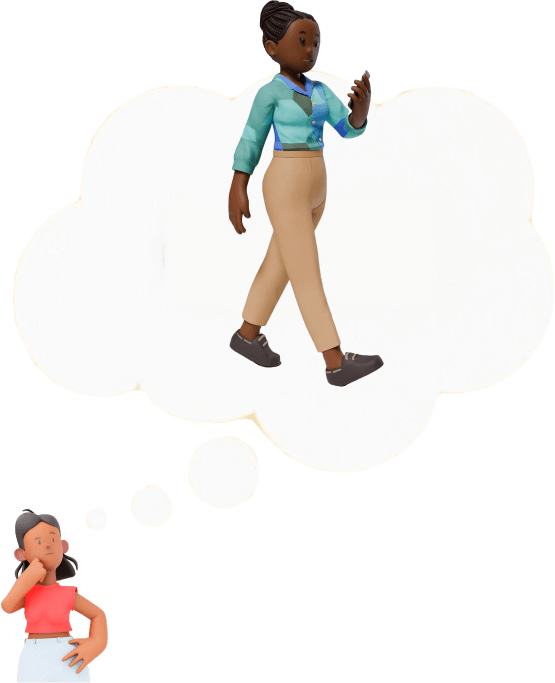 Friend, there's nothing like CourseReelAI on the market that lets you create profitable courses faster than you can blink!
CourseReelAI's Special "AI Trinity Matrix" Technology Is The Key! People Are Absolutely LOVING This New Video Course Creating Technology!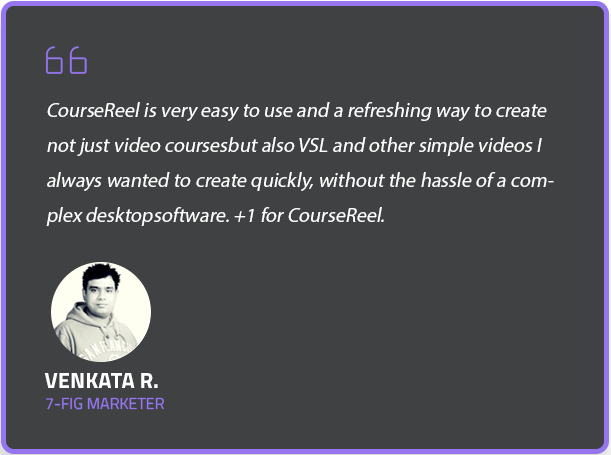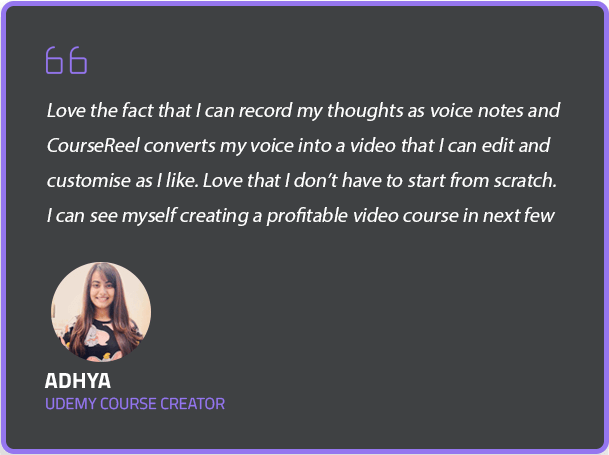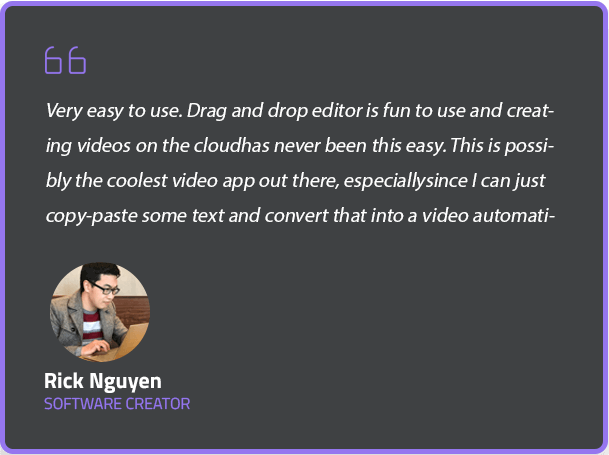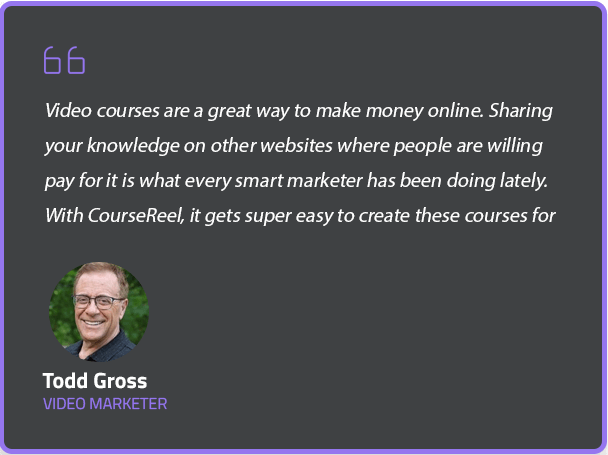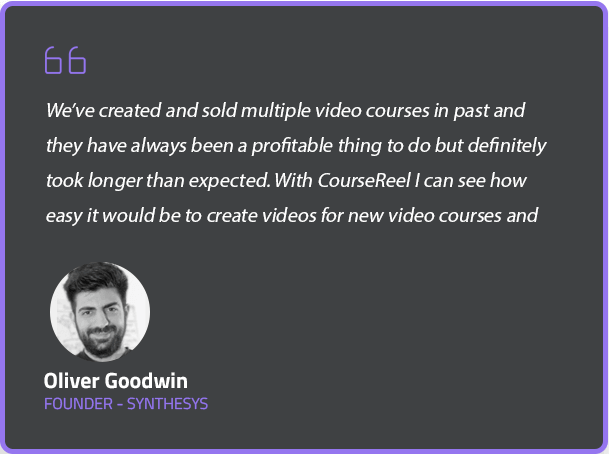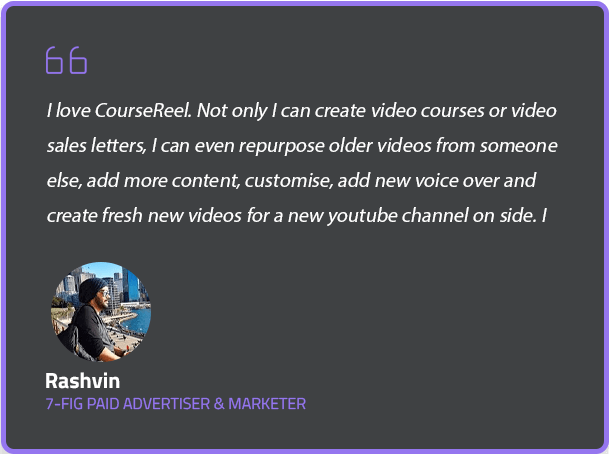 Watch Us
Create A Course

In Only Minutes With

CourseReel

AI
The Key Is Our Brand New True-No-B.S.
Some software claim to have an A.I. built in, but that's just not the case. When you look closer, there's no machine learning under the hood.
But we've developed a real A.I. that powers a lot of our apps. CourseReelAI included.
As a matter of fact, we've fed our in house A.I. over ONE THOUSAND (1,000) video courses meta data to train it so it knows EXACTLY what to create for your course.
And thus…the Course Creation Trinity Matrix was born.
Let us share what it is and then some…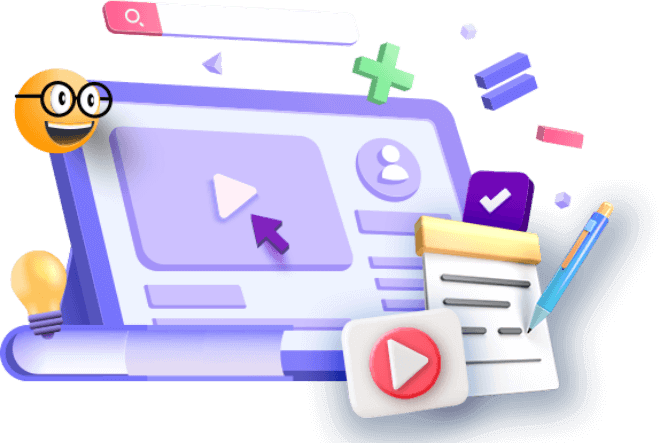 Take A Deeper Look Inside CourseReelAI...
Presenting
The A.I. Course TOPIC Creator
Don't have an idea for your course? No problem. Let the Ai do the hard work for you. Simply submit a keyword and the app will go out and bring back a number of topics based upon past popular data.
From there, the A.I. will actually suggest titles for you! You select one you want and then move on to the next step.
This will cut your brainstorming session up to 90%! Which makes the next part of the matrix work even better…

The A.I. Course CHAPTER Creator
Now that you've got your topic, CourseReelAI will do the work of putting together the perfect outline. There's no need for you to stumble about with notes and loads of papers, apps, and other nonsense.
Simply submit your topic to the app and you'll receive back a full fledged course outline laid out with perfection.
And even then, if you want, you can tweak the parameters to get everything ready for the final part of the matrix…

The A.I. Course CONTENT Creator
Now that you have your outline, the A.I. will go about its work of writing the script for each chapter of your course. It will work on every section one by one to create a cohesive video course. This won't be a bunch of garbled nonsense that you see from other A.I. writers.
By giving the A.I. 1000's of different course metadata, it now knows how to write scripts that are incredibly informative and attractive for video courses.

After the scripts are done, the A.I. will go about converting the scripts into slides with various images, animations, text, transitions, as well as intros and outros.
And before you render the video, you'll have total control to customize it to your liking. All of this happens without you hardly lifting a finger.
But That's Not All. There's Also…
When you first log into CourseReelAI, you'll land at the main dashboard. You'll find everything perfectly placed exactly where you need it. With a layout so simple, it lets you get up and running quickly.
But don't be fooled by this. Behind the simplicity lies a video creation behemoth that's ready to get you amazing results in your business!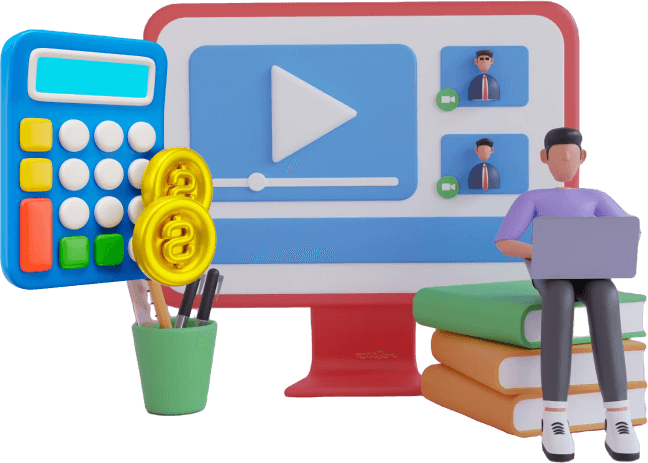 Even if you've never created a single video course in your life, the CourseReelAI Trinity Matrix makes this process incredibly simple. By using this special component in the app, anyone…and we do mean ANYONE can create courses ready for sale in absolutely no time. Regardless of skill or technical ability.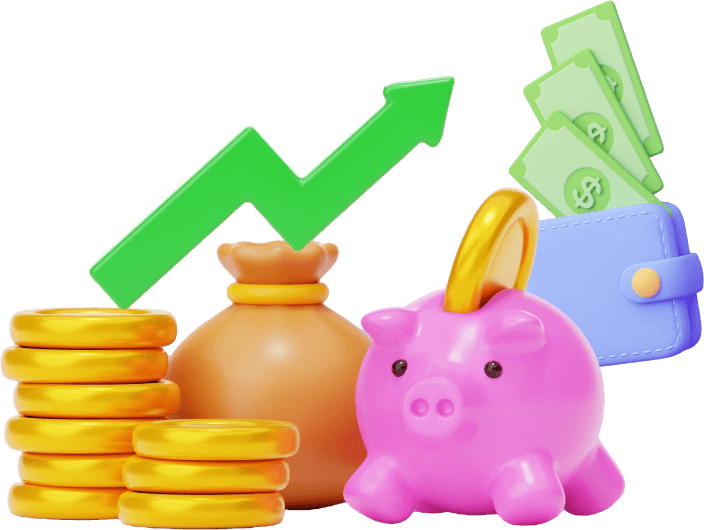 If you need a video for your blog, channel, social, or whatever the case may be, CourseReelAI has you covered. Simply choose one of the options below, tweak a few parameters, and you've got an engaging video the masses will rave over!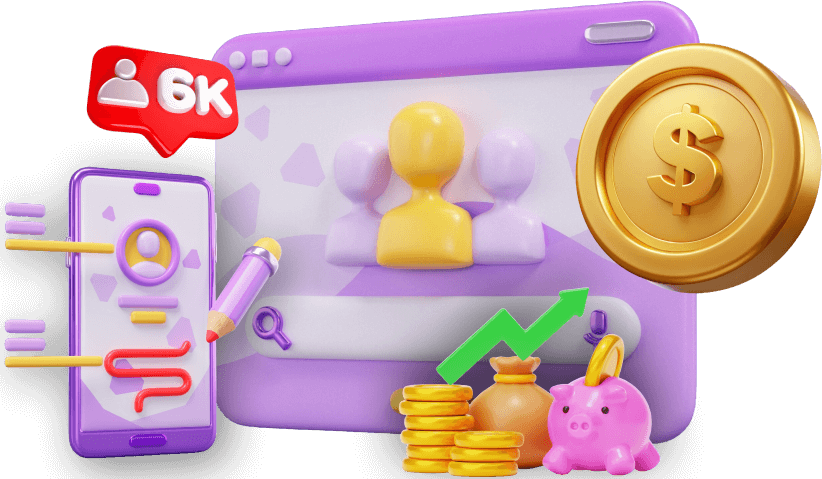 It used to be that creating vsls (video sales letters) were an absolute pain. But not anymore CourseReelAI You can let the software generate a script for you in minutes, or you can bring your own audio (see below) and have a high converting video in a flash that makes sales.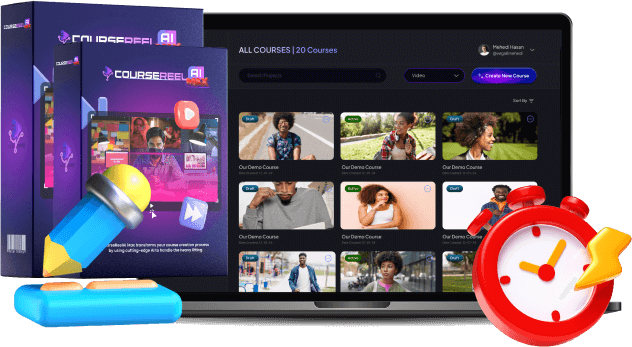 If you've already got ideas for your course, no problem. Just upload your recorded audio to the app and it will automatically create the video for you in a snap. Easy peasy.
If you want a certain verbiage with your courses, the app can handle that too. You only need to copy the script you've already created for your videos directly into the app, click a few buttons, and CourseReelAI will present you with an amazing video to your liking.
Listen, we're not stingy when it comes to our apps. That's why we're going to load you up with 50 videos every single week that you can produce inside the app. That's an average of 200 videos per month. If you factor in each video costing $50 each, that's $10,000 worth of video for just pennies!
You'll love the fact that every video you produce in the app is of the most pristine quality. No low resolutions or videos that look blurry to your audience. These videos are clear, crisp, and ready to help you build your business and bottom line quickly.
The app lets you import your own video clips to make every course you create unique. This is great for blending slides and various media together to create a dynamic looking course ready for the masses.
There's no limit to how you can monetize your courses you create from the app. Profit from a singular course or create a membership where there are a succession of courses and earn recurring revenue in the process.
We won't try to get free advertising from the courses you create by including items like, "powered by, etc."
Every single video you create inside the app will represent your brand and your brand only. You'll never have to worry about us invading your territory for free traffic and sales.
Although you can upload your audio files directly to the app, we've also taken it a step further by including voice recording directly in the app. Just connect your microphone to your device, start talking, and let the app create an amazing course faster than you could ever imagine!
You can also take old videos you have, load them in CourseReelAI, extract the audio, and let the app create a brand new video for you! This is a great way to take old or existing videos and give them new life and remove any 'audience' blindness as well.
If you have rights to any videos or want to tap into Creative Commons, CourseReelAI can take on that task as well. It's perfect for extracting audio and jump starting a brand new course while working smarter at the same time.
You can also tap into the ad industry on various platforms using video directly from the app. This is a great way to start scaling any business fast. Sometimes getting results in even 24 hours.
Don't want to talk in your videos? You don't have to! The A.I. will also let you choose from attractive voices that will produce the entire voice over for you. Once again, it's as simple as tweaking a few parameters, clicking your mouse, and letting the app do all the work. Amazing!
Yes! The app also supports these languages and will allow you to create video text and even voice overs in English, Spanish, French, and Hindi.
If any of these are your native tongue then you'll appreciate the fact that the app will help you dominate in your market's culture. But you can also use it to create videos in other languages and take advantage of foreign markets too!
While you can bring any image you want to the party, we've also integrated with other stock photo sites as well.
This way you can find the perfect images fast without having to jump from browser to browser or tab to tab. These aren't a part of our personal library (see below), but will give you more options for adding a special touch to your video courses and video content created inside the app.
We're also going to give you access to 1000's of backing tracks to make your videos perfect.
These music tracks can help bring your videos to life and boost attention and conversions as well. You can audition the tracks directly inside the app and one click add them to your project in a snap.
Normally, you'd have to spend thousands on this library, but it's included with your investment today.
Increase your workflow by sending videos specifically made for YouTube directly to the platform. No need to download and then wait for videos to upload. Simply connect your YouTube channel to the app and you can publish a steady stream of content that's ripe for attracting viewership and sales.
Multiply your shares, traffic, and profits in less time than it would normally take by syndicating any video you create in CourseReelAI directly to Facebook. Great for boosting pages, groups, and even your profile to help you build your following asap.
You can also download all your videos directly from the app to your device. This is perfect for getting videos created quickly that you may want to finish off in another platform.
Even though…we feel that's not necessary, we'll still give you the option. (Yes, we're jealous lol)
Because you can export your videos directly, this will allow you to take your videos all over the internet. And with the ability to create videos faster than ever, you can have content posted on multiple sites, all bringing you traffic, leads, and sales…before you've even had your morning coffee.
If you ever get stuck or have any technical issues using the app over the next 12 months, we'll make sure to fix it ASAP. We take pride in all our developed apps and CourseReelAI is no different.
You'll never have to worry about paying today and have the software disappear in 3 months. CourseReelAI is here to stay and ready to help you make profitable courses fast!
We want you to get results as quickly as possible so therefore, we've created your very own dedicated training center. This video and pdf combination will take any mystery out of using CourseReelAI and help you get out the gate with incredible speed.
We don't want a single obstacle holding back your success with the app and this training ensures that.
The Power to
EASILY

Create Video Content & Video Courses Fast…

Reimagined.
"Looks Good Guys. But, Can I Write

My Own Scripts

To Use In The App?"

Sure. While we think CourseReelAI is absolutely amazing at handling this for you, we'll admit we are a bit bias. ;-)

So if you want to have a little more control over your scripts, it's not a problem at all.

Just integrate what you've written with the app and use the other features for full steam ahead.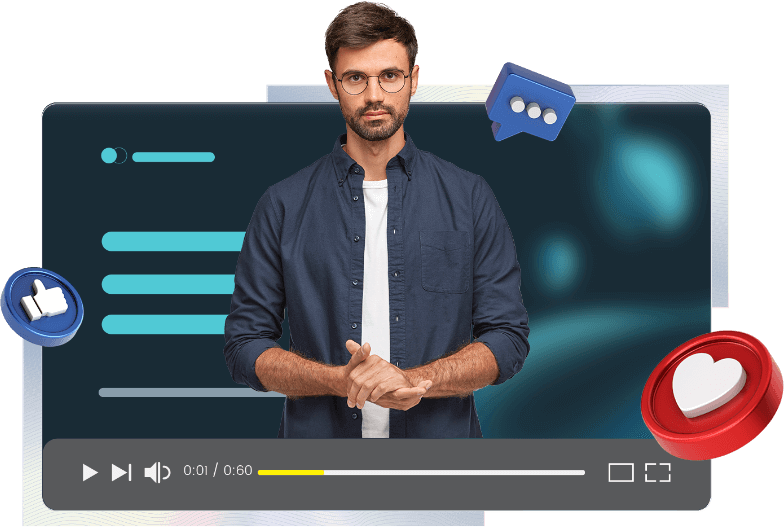 "What About Adding

My Own Videos & Images

To The Content

CourseReel

AI

Creates For Me?"

Not a problem. If you have special media that you want to include with the content the app creates for you, by all means go for it!

Just add it to your project, place where you want it, and you're off to the races!

You'll find the platform to be incredibly intuitive with helping you get your videos just the way you want WITHOUT the headaches.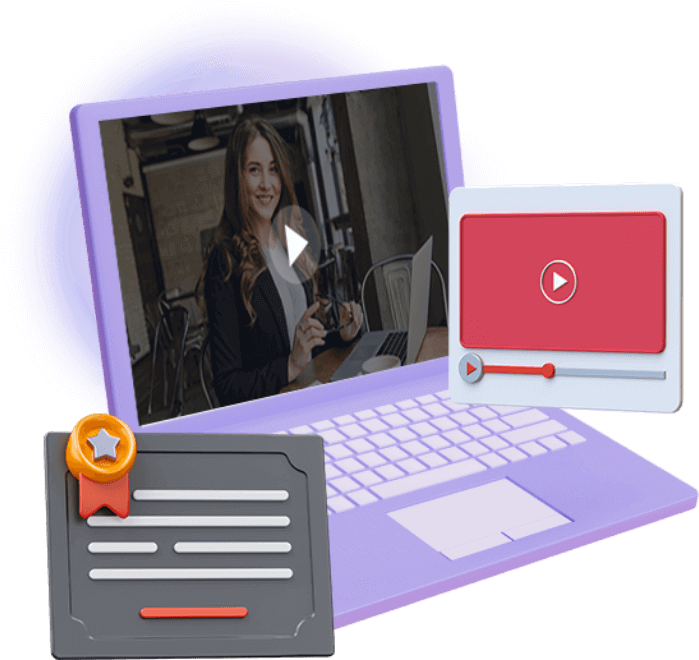 "Can I Use It Just To

Create Single Videos

For Items Like YouTube?"

Yep. You could employ the same matrix technology and use it to create a video series instead of a course.

Export it directly to your YouTube channel or download it to use with other sites as well.

When it comes to CourseReelAI, you're 100% in control.

The only limitation? Is your imagination.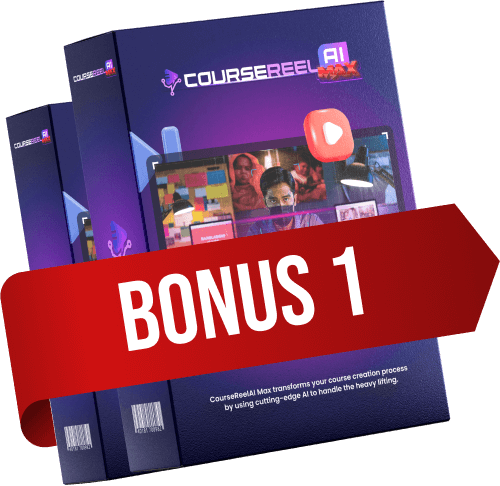 "Can I Download Chapters of

The Video Course

Separately Too?"

100%. As we said before, the app is totally flexible and gives you a number of ways to create & export video fast. You can export any video chapter you want with just a simple click of your mouse in no time at all.
"Ok, Great.
But Is

CourseReel

AI

Right For My

PERSONAL Business?"

Absolutely! Every entrepreneur and business owner can benefit from having access to CourseReelAI

That includes:
Coaches and Consultants

Digital, Affiliate, and Ecom Marketers

Book Authors

Copywriters

Local Agencies and Consultants

Service Professionals (i.e. Plumbers, Tree Trimmers, Electricians)

Medical Professionals (i.e. Doctors, Dentists, Chiropractors)

And More!
By getting access, you'll be able to:
Build your following by creating amazing content and posting to your profiles
Create courses that educate and entertain your audience, making them want to do business with you
Create special bonuses that boost conversions for any product you sell
Create demo content for your products and services to convert prospects into customers easily.
Plainly put, if you sell ANYTHING and need customers or clients, then CourseReelA.I. can help you get results without spending months creating the video content yourself.
With That Being Said…Creating Video Courses Is Only Scratching The Surface When It Comes To What CourseReelA.I. Can Do.
There's So, So Much More…
If all CourseReelAI did was create videos course in a blink of an eye, that'd be enough for you to rush and sign up this instant.
But that's only the beginning. With the app in your hands, you can do SO much more.
We're talking about things like:
Dominate YouTube
By creating videos fast, you can build multiple channels you can monetize and collect ad revenue across multiple niches.
Get High Ticket Clients From Linked In
Demonstrate your expertise on video and attract the right clients with big budgets in hand.
Build A Responsive Email List For Profit
Create great lead magnets in a flash that entices prospects to sign up for your list while keeping them engaged with even more great video content.
Make Recurring Income With Patreon
Combine this with YouTube as so many other YouTuber's do and you've got an ongoing income stream. Use CourseReelAI to create exclusive content for your members.
Flip Sites For Profit
If you have sites you're monetizing, you can not only fill the content with informative videos using the app, but also create more videos that point back to the site, send more traffic, and later flip that site for a profit.
Build Buzz For Your Video Courses
Not only can you create courses inside the app, but also use ADDITIONAL videos to create major buzz and anticipation for your course launches as well.
Grow A Massive Following On Social Sites Like Tik Tok, FB, and others
People LOVE videos on social media. Use fast videos inside the app and build profitable followers like a moth to a flame. Plus, when you add the topic creator, you'll have a never ending supply of social content!
Siphon Affiliate Revenue From Reddit and Forums
this one is a little underground tactic, but you could definitely create how-to videos that can get posted on sites like Reddit with a link to get the tech, fashion, or any other item. Especially in sub-reddits where people are asking for items they are looking to buy on discount! ;-)
Because video is so powerful and it's the most consumed content online, with CourseReelAI in your hands…the sky's the limit when it comes to profiting online and off.
However…
Talk Is Cheap.
We're Actually Going To Show You How To Use CourseReelAI To Create An Income With This Special Premium Bonus Upgrade…
Special Free Limited Time Upgrade #1


Exclusive Insider Training:


"How To Make Fast Conversions With CourseReelAI By Tonight!"
We're not only going to give you ideas of how CourseReelAI can help you create income…we're going to show you how!
That's right. After this special launch ends, we'll be hosting a private training where we'll walk you step by step through learning how to use the app to generate revenue.
No hypotheticals or b.s. fluff. This will be a true action packed PRIVATE training that will put you on the fast path to success with CourseReelAI
But that's not all…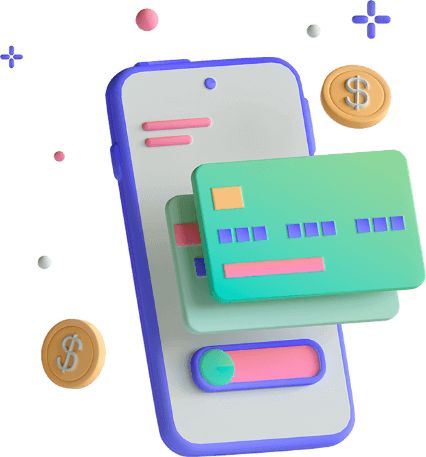 Special Free Limited Time Upgrade #2
Commercial Licensing Included.
We're also going to upgrade you to Commercial V.I.P. status when you sign up for your account today.
This mean you'll be able to sell your video creations to other businesses and keep 100% of the profits.
This way, not only can you use CourseReelAI for your business, but can also use the app to build an entirely separate business if you wish!
Having this option available allows you to grow your revenue exponentially!
Normally, we reserve this as part of our upgraded funnel, but it's yours at no additional cost.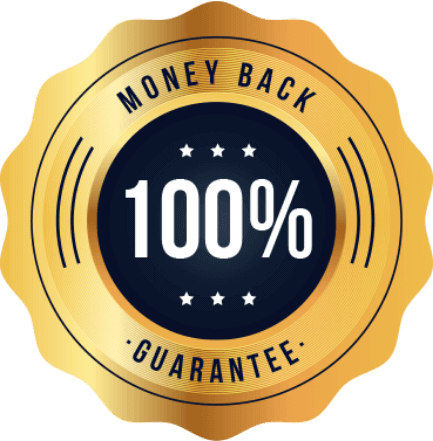 But We're Not Done Yet!
You'll Also Receive These Fast Action Bonuses When You Get Started With CourseReelAI Today.
ARTICLE-2-VOICE CREATOR
Easily convert any articles into a human-like voice.
Simply copy-paste your article or content, pick the access and in just a few minutes and a click of a button, download an MP3 audio with text-to-speech of your articles for free. No need to use any API key or anything like that.
Turn anyone's blog post into an audio, take that audio and convert into video and you have a brand new course ready that you can sell for $1000s using Udemy Style websites.
COURSEABLE TRAFFICBLASTER
For traffic, you need to focus on Pinterest and with the Courseable TrafficBlaster app.
With this app you will be able to automate your entire Pinterest marketing.
You will be able to create boards and publish on pinterest, generating 1000s of visitors every day for free.
SEO Software Pro
Simple yet powerful software application perfect for webmasters that are interested to check rankings in Google for any given keyword.
This software will help you get more traffic.
Get this awesome software with AcademyPRO today!
A One Time Investment

Is

All It Take

To Create Courses You Can Profit From

FOREVER.
During this special launch, CourseReelAI is available for only a one time fee.
Sure. That's a bit crazy on our side, but we're more interested in having you as a long term customer.
We figure, if we wow you with this app, maybe you'll be inclined to give us your business in the future when you're looking for solutions to help grow that same business.
So just a one time fee is all it takes to get started today and have your first profitable course by dinner tonight.
You're Also Protected By My No-Risk
100% Money Back Guarantee!
Take the next 14 days to try CourseReelAI for yourself. Use every facet of the app without any restriction whatsoever. See how easy it is to create amazing video courses and videos in just mere moments.
Go through every feature with a fine tooth comb. If after doing so, you don't agree that CourseReelAI is everything we say it is, then I want you to get in touch asap.
If me and my team can't personally help resolve any issue you have (which we 100% doubt) , then I'll issue you a prompt and courteous refund.
Plus all the bonuses are yours to keep as my way of saying thanks for giving CourseReelAI a try!
There's Nothing On The Market Like
CourseReel

AI

That Lets You Create Video Lightning Fast!
And Definitely Not For The Same Price.
With other apps, they tend to require you to start from scratch or come up with your own ideas from a blank canvas. Or even worse, some have a learning curve so steep, it's like a 6 year old trying to understand calculus after learning to count on their fingers!
What you need is something that can give you results fast. Money loves speed and CourseReelAI helps you get in the money faster than any other video creation app out there by giving you a RIDICULOUS head start.
Not to mention doing all the heavy lifting for you with The Course Creation Trinity Matrix.
Plus, when you look at all the other various features included in the app for the INSANELY low price, we're sure you'll agree that there is nothing on the market that even comes remotely close to CourseReelAI
Go ahead…we dare you to try and find it.
CourseReel

AI

Is Available At A Discount…But For A

Limited Time Only.
During this special launch phase, you can snag your very own personal access to CourseReelAI for just pennies on the dollar. That comes with no monthly fees or hidden costs.
Just a one time DISCOUNTED price TODAY.
But that will change very soon. The price with CourseReelAI continues to rise each day AND when the timer runs out on this page, we'll boost the price of the app or move to a monthly fee.
Or even do both.
That's why it makes sense to get access right now. Because this is the lowest that CourseReelAI will ever be.
By getting access now at the limited time discount, you're securing your ability to make profitable courses now and in the future to come.
Just think about it. A small one time investment today gives you the ability to make tons of courses fast FOREVER.
It's a total win for you and why you can't afford to delay getting access any longer…
Honestly Speaking, This Just Might Be The Lazy Results That You've Been Looking For.
Even after seeing everything CourseReelAI can do, maybe you're still a bit on the fence. Or maybe...just maybe...you're skeptical and think that an app like this is too good to be true.
Hey, I get it. I would be skeptical too.
But that's just the thing. I was in your shoes at one time too. Tirelessly fussing about over video creation. Never really reaching my full potential because there just didn't seem to be enough hours in the day.
And compounding that frustration was all the latest 'flavor' of monthly video apps that promise you quick riches without any work.
But that's not what I'm promising here. We both know you're way smarter than that.
However, I will say that when it comes to creating results fast, nothing works better than video. Nothing.
And when it comes to creating video fast, nothing works better than CourseReelAI in my opinion. Absolutely nothing.
Just think about it. You speak naturally and not too long afterwards you've got a set of videos ready to bring you leads, sales, and conversions.
How incredible is that?
That's why I'm urging you to get access to CourseReelAI today. Because this just might be the easiest path to success that you'll ever encounter.
Now You Have No Excuse.
CourseReelAI Gives You Everything You Need To Create Amazing Video Courses & Video Content Fast.
Now the ball is in your court. I've shown you everything I can about how CourseReelAI can not only make creating video courses easier and faster for you, but also how it can give you multiple ways of growing your business very quickly.
The only real question is what will you do next?
Will you take action today and let CourseReelAI help put you on the fast track to profit or will you be like others who sit back and watch an opportunity like this pass them by?
Obviously, because you've read this far, you believe CourseReelAI can be a major benefit to your business and your bottom line, right?
So, here's what you should do now:
Scroll down and click the button to get access to CourseReelAI right now. Don't delay. Don't come back later because the price might be higher when you do.
Also, don't forget that you have nothing to worry about when you purchase today because you're 100% protected by CourseReelAI's risk free money back guarantee.
But when you think about all of the high quality profitable video content you'll be creating faster than ever...you only have everything to gain.
So with that being said, go ahead and get access to CourseReelAI now and I'll see you on the inside!
Get Started with CourseReel
Here's Everything You Are Getting Access To Today
Create Video Courses using A.I.
Create upto 5 Courses
Create upto 3 videos per course
Create VSL For Video Courses
A.I. Course Topic Finder
A.I. Course Chapter Creator
A.I. Course Content Creator
Create Courses Using Voice Recording
Create Courses By Copy-Pasting Script
Create Courses Using A.I. Research & Content
Create 5 Videos Per Week
Create HD Videos - 5min Length
Add Video Clips in Your Videos
Create & Sell Your Course
Commercial Rights - Sell Your Courses Anywhere
Record your audio inside the app
Upload a video & use it's audio to create new video
Upload your audio to create videos
Upload your audio to create videos
English-Spanish-French-Hindi Support
Choose from Millions of Images
Choose from 1000s of Background Music
Upload Your Videos To YouTube
Upload Your Videos To Facebook
Download Your Videos
Publish Your Videos On ANY Platform
Dedicated Support & Regular Updates - 12 months
Detailed Training Included - Video + PDF
14 Days MoneyBack Guarantee
BONUS TRAINING WEBINAR: How to Make Fast Cash Using CourseReelAI!
FAST ACTION BONUSES
Founding-Members Special - Only Today
Fast Action Bonus:

Advanced Analytics & Reporting

Fast Action Bonus:

Free Cloud-Storage for Videos

Fast Action Bonus:

TikTok Traffic Generation Training

Fast Action Bonus:

WP TubeLeads - Commercial

Fast Action Bonus:

Underground Traffic Sources
Create Video Courses using A.I.
Create upto 50 Courses
Create upto 10 videos per course
Create VSL For Video Courses
A.I. Course Topic Finder
A.I. Course Chapter Creator
A.I. Course Content Creator
Create Courses Using Voice Recording
Create Courses By Copy-Pasting Script
Create Courses Using A.I. Research & Content
Create 50 Videos Per Week
Create HD Videos - 15min Length
Add Video Clips in Your Videos
Create & Sell Your Course
Commercial Rights - Sell Your Courses Anywhere
Record your audio inside the app
Upload a video & use it's audio to create new video
Upload your audio to create videos
Auto-VoiceOver Creation for Videos
English-Spanish-French-Hindi Support
Choose from Millions of Images
Choose from 1000s of Background Music
Upload Your Videos To YouTube
Upload Your Videos To Facebook
Download Your Videos
Publish Your Videos On ANY Platform
Dedicated Support & Regular Updates - 12 months
Detailed Training Included - Video + PDF
14 Days MoneyBack Guarantee
BONUS TRAINING WEBINAR: How to Make Fast Cash Using CourseReelAI!
FAST ACTION BONUSES
Founding-Members Special - Only Today
Fast Action Bonus:

Advanced Analytics & Reporting

Fast Action Bonus:

Free Cloud-Storage for Videos

Fast Action Bonus:

TikTok Traffic Generation Training

Fast Action Bonus:

WP TubeLeads - Commercial

Fast Action Bonus:

Underground Traffic Sources
Q. Will CourseReelAI work on my current computer?
Sure. Because there's no software to install on your part, you only need an internet connection. Login with the details we give you after your purchase and you can create videos easily without any hassle.
Q. Can This Really Create Courses From My Voice?
Yes. The app will create the entire slide with images from the script you use or it can create scripts for you using the in-house A.I.
Q. Is This Going To Be Hard To Use For Me? I'm Not Too Technical
Absolutely not. We've made sure to make using CourseReelAI as easy as pie. Even for the most technologically challenged person. However, to make sure you understand how everything works, we've also added top notch easy to follow along training in the members area.
Q. Is There A Limit On The Amount of Videos I Can Create?
With this level of CourseReelAI you can create up to 50 videos per week..
Q. What If I Need Additional Help or Need To Ask A Question Not Found Here?
No problem. Just contact our support desk and we'll get back to you asap. Most support replies happen within 24-48 hours tops!
Q. Does It Take Long To Get Started?
Not at all. You could log in today and have your very first videos ready to go in minutes. Plus, with the A.I. you could let it handle the topic, outline, and script creation from start to finish.
Q. WHAT IF I OWN CourseReel Legacy from 2020 ?
Simply login to your CourseReel Legacy (2020 version) account at https://app.coursereel.io and you'll find a special discount coupon inside the dashboard to get CourseReelAI. If you can't find it, reach out to our support team and we'll be happy to help. Please know that Legacy (2020 version) users do not get CourseReelAI for free. It's vastly different from the legacy software and built from scratch, packed with dozens of fundamentally new features. If you loved previous versions of CourseReel, then you already know it's worth every penny. And I promise, you're going to absolutely GO NUTS when you see the power of this app in action! CourseReel Legacy 2020 is supported and will continue to be supported.
Q. Will I Need To Purchase a Subscription?
Currently you do not need to purchase a description. However, that could change after the special launch phase so it's best to sign up for your CourseReelAI account today. Especially since this is the lowest price it will ever be.
Q. What is the refund policy & can I get a refund?
We offer a 14-days refund policy. We do not offer a "no questions asked refund". All refunds are processed based on our refund policy mentioned at https://coursereel.io/refund.html. There is no obligation to provide a refund in situations like the following:
You have changed your mind about a product.
You bought a product by mistake.
You do not have sufficient expertise to use the product.
You ask for goodwill.
You have a personal emergency.
Your purchase was an accident.
Also, subscriptions can be cancelled any time but are not refundable. Filing a dispute or chargeback will results in no refund and permanent ban.
Every effort has been made to accurately represent our product and it'spotential. Any claims made of actual earnings or examples of actual results can be verified upon request. The testimonials and examples used are exceptional results, and don't apply to the average purchaser and are not intended to represent or guarantee that anyone will achieve the same or similar results. Each individual's success depends on his or her background, dedication, desire and motivation. As with any business endeavor, there is an inherent risk of loss of capital and there is no guarantee that you will earn any money. Furthermore, certain proof and case studies mentioned on this website may not be associated with our product or service, and any results presented may not have been generated utilizing our product. Such materials are solely provided for case study and motivational purposes. We strongly recommend that all website visitors exercise their own due diligence and discretion prior to making any purchasing decisions.
By making a purchase on this website, you agree to abide by all our policies and will not be misusing our product(s) for any wrongful purposes.
Copyright © CourseReel.io | VineaSX Solutions LLC - UAE